"Great wines, great mustards, powerful flavours"
Press release
Hospices de Beaune Wine Auction special
September 26th 2015

---
An exclusive tasting at Bouchard Aîné & Fils in Beaune :
« Great wines, Great mustards, powerful flavours ! »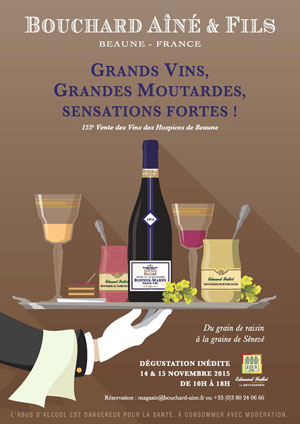 Bouchard Aîné & Fils are innovating once again this year, with an original tasting in partnership with mustard producer Fallot to celebrate the 155th Hospices de Beaune wine auction on Saturday 14 and Sunday 15 November 2015.


Wine and mustard – an unnatural pairing, one might think. However, a partnership between Bouchard Aîné & Fils and another great Beaune producer, the Moutarderie Fallot, has resulted in some delectable food and wine combinations to tempt the taste buds. And you can discover them during the weekend of the Hospices de Beaune wine auction, which typically sees some of our best bottles brought out from the cellars.



From grapes to grain...
It's a little-known fact but these two fruits of the Burgundy terroir – mustard and grapes – have a shared history because without vines, mustard would have never become a local tradition. In the mid-nineteenth century, the vinegar in mustard was substituted with verjus or white wine to create the traditional Dijon version. So join us to find out what happens when grape meets mustard seed in the hands of Bouchard Aîné & Fils.

This exercise in spicy style, has been subtly developed by two local institutions for a tasting that is filled with olfactory, gustatory and historic discoveries along the Tour of the Five Senses from Bouchard Aîné & Fils, that has received a makeover for this event.


For an appetizer, guests will enjoy some crunchy mustard seeds, set off by the bubbles of Crémant de Bourgogne. Then the highpoint of the tasting will be four food and wine combinations presented in the vaulted 18th century vaulted cellars of the Hôtel du Conseiller du Roy. A wine served from the barrel from the 2015 vintage – a rare taste experience for a white wine – will reveal its nascent contours. The aromas of the mustard will echo those in the aroma cellar, and the experience will finish with a sublime Burgundy grand cru in the shape of a Bonnes Mares 1974.


For the occasion, visitors will enjoy a special double deal: attendees at the Bouchard Aîné & Fils tasting will receive a gift from the Moutarderie Fallot and those who attend Fallot will benefit from a discount at Bouchard Aîné & Fils*.

Practical information

Tasting in the cellars of the Hôtel du Conseiller du Roy, 4 boulevard Maréchal Foch, Beaune
Saturday 14 and Sunday 15 November 2015 – 10am to 6pm
On the menu
Crémant de Bourgogne with crunchy mustard seeds
Savigny-lès-Beaune 2008 with smoked salmon on sourdough with bran butter, with mustard seed and yuzu mustard
Meursault Premier Cru Le Porusot 2010 with a compote of rabbit with tarragon mustard
Beaune Premier Cru Les Marconnets 2015 in the barrel
Chambolle-Musigny Les Cras 2010 with poached quail eggs on a beetroot and Pinot Noir mustard coulis
Corton Grand Cru Cuvée Docteur Peste Hospices de Beaune 2000 with brochettes of aged Comté and truffled ham with truffle mustard
Bonnes-Mares Grand Cru 1974
All the wines offered for tasting are also on sale at the boutique
---
Prices
"Gourmet" Tasting:
€40
A preferential rate of €36 is available from
www.bouchard-aine.fr
or
www.beaune-tourisme.fr
:
For early-bird bookings
As a group rates for parties of 15+
Upon presentation of a ticket for a visit to the Moutarderie Fallot
Includes a free engraved Bouchard Aîné & Fils glass and a portion-sized pot of Fallot Burgundy mustard
---
www.bouchard-aine.fr |Facebook |Twitter |
www.fallot.com | Moutarderie Fallot, 31 rue du Faubourg Bretonnière, Beaune
tél. +33 (0)3 80 22 10 10 accueil@fallot.com
Individual visit price from €10


---

Press contact
actuelles communication
Nathalie Boisset & Véronique Desmazure
contact@actuelles.biz | Phone: +33 (0)3 80 30 14 30