Press release -
04/2013
---
Tour of the 5 senses® « Let's sign our wine » !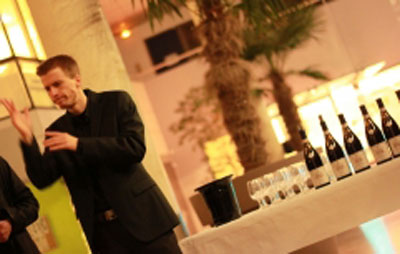 On 27 March, Burgundy Business School ESC Dijon, played host to an exceptional event bringing together wine, art and disability. The event was part of a project by a dozen students from the Master's degree in International Wine and Spirits Business (CIVS) in partnership with The Tour of the Five Senses® at the Maison Bouchard Aîné & Fils, and the Dijon-based charity La Main, l'Oreille et l'Œil (MOOD).
The idea of "Let's Sign our Wine" is to understand how deaf and hard of hearing people experience wine through a tasting followed by a "re-transcription" via the creation of a work of art. Around a dozen people who are deaf or hard of hearing worked together with a hearing partner to express on canvas the emotions evoked by the wines of the Maison Bouchard Aîné & Fils.


Hard of hearing artists Lionel Daval and Ambre Weill hosted the event, which was open to the public, and worked with the participants, with the help of some sign language interpreters. Around 20 works of art were created and were presented at an exhibition on 3 April at the school. The pieces will go on sale on 6 May, and all profits from the sale will be donated to MOOD.


Contacts:
julien.hannoun@escdijon.eu
www.escdijon.eu
www.mood.asso.fr


---