L'étoffe du vin – or a wine's mouthfeel
Press release - Hospices de Beaune Wine Auction 2014
October 6th 2014
---
NEW !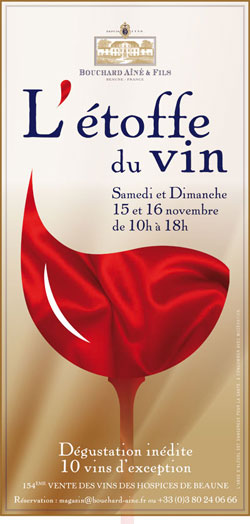 L'étoffe du vin – or a wine's mouthfeel !
An exceptional tasting at Bouchard Aîné & Fils
During the third weekend in November, Beaune, the capital city of Burgundy wine, is the gathering place for wine lovers from the world over, who come to enjoy a rich program of festivities organized around the historic annual Hospices de Beaune charity wine auction. To celebrate the 154th edition, Bouchard Aîné & Fils is hosting a unique tasting with the theme of L'étoffe du vin, or a wine's mouthfeel.
In the context of wine, the "étoffe" is the multitude of sensations a wine creates in the mouth. Sometimes dry or astringent, or preferably silky, fluid, smooth, sophisticated or velvety, a wine's mouthfeel defines the effect it has on our sense of touch, and helps define its architecture.
As part of Bouchard Aîné & Fils's famous Tour of the Five Senses®, the wall of touch allows visitors to use their fingertips to explore fabrics representing the delicate nuances a wine offers on the tongue. Guests are invited to enjoy exploring all the subtleties of the 10 wines in the selection, exclusively presented during the wine auction, from Crémant de Bourgogne to old vintages, and including a wine ageing in oak, reds and whites, villages, premiers and grand crus.
The word "étoffe" in French also means "fabric", and this year's theme is a nod to the Bouchard family who started out as drapers in the early 18th century to become merchants of fine wine in 1750. Last year's theme celebrated that great century and the Age of Enlightenment.
Four food and wine combinations have been specially created to set off this surprising exploration of your sensorial universe. And the historic cellars of the maison Bouchard Aîné & Fils, which form the backdrop to this tasting, will be decorated to suit the theme of fabric and fine wines.
---
Practical informations
Tasting in the cellars of the Hôtel du Conseiller du Roy, 4 boulevard Maréchal Foch, Beaune

Saturday 15 and Sunday 16 November 2014

From 10am to 6pm
Tasting: 10 wines, including one Crémant de Bourgogne, one wine in the barrel, whites and reds, Burgundy, grand crus and old vintages (Corton Grand Cru Cuvée du Docteur Peste Hospices de Beaune 1998, Beaune 1er cru Clos du Roi 1962). Check the wine list here!


4 amuse-bouches to complement the wines

Reduced price for early-bird bookings at www.bouchard-aine.fr or www.beaune-tourisme.fr
---
Press contact
actuelles communication
Nathalie Bergès-Boisset
Véronique Desmazures
10 rue de l'Egalité 21700
Nuits-Saint-Georges
Phone. : +33 (0)3 80 30 14 30
contact@actuelles.biz
www.actuelles.biz


@actuellesRP