Special tasting "Wine regained"
Press release
October, 19th, 2018
---
Special tasting in Beaune
TIME REGAINED
Over the weekend of the Hospices de Beaune Wine Auction, on 17 & 18 November 2018, the Maison Bouchard Aîné & Fils is hosting an exceptional tasting on the theme of history.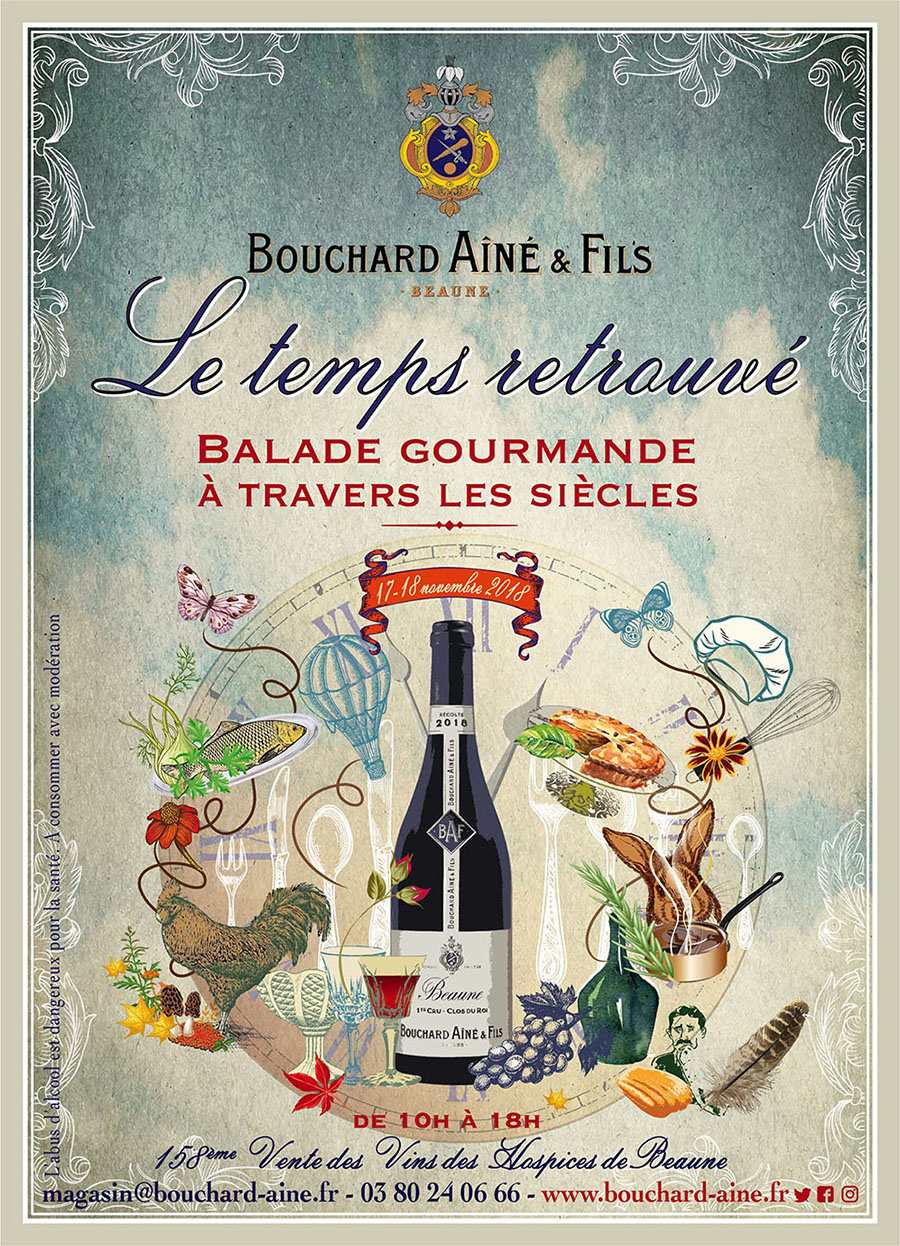 In Beaune, during the weekend of the Hospices de Beaune Wine Auction, the Hôtel du Conseiller du Roy throws open its doors and those of its 18th century cellars to offer a unique tasting on the theme of Time Regained. With a nod to Marcel Proust's nostalgia for the past, this tasting takes a look back at the rich history of a family of pioneers that, from generation to generation, has produced wines that have dazzled across five continents since the early 18th century. History and indulgence are thus the buzzwords for this exclusive tasting of seven wines and four dishes, which embraces four centuries since the Age of Enlightenment when Bouchard Aîné & Fils was founded, right up to the present day. This curated selection includes a wine in the barrel, an old vintage in magnums taken from the special reserve cellar, and a range of prestigious red and white Burgundies to take you on a sensorial trip back through time.
The cellars will be specially decorated to match the theme, transporting visitors to the past where they can take the time to sample the wine and read the free accompanying booklet on the history they are living. Then, when night falls, the façade of the Hôtel du Conseiller du Roy will come to life with a special projection on this year's theme with some legendary members of the Bouchard family.
Two Laurents are behind this creation: Winemaker Laurent Mairet and local chef Laurent Parra, who together will be orchestrating this exercise in style.
And if, like Proust, you are in search of lost time, a special offer from the boutique will ensure you can take away a selection of the wines sampled in the cellar.
---
Reservation recommended
At bouchard-aine.fr, by email to magasin@bouchard-aine.fr, or by telephone on +33 (0)3 80 24 06 66
Early bird rate (until November 16th) €40pp | Full price €45
Group rate (min. 15) €40
Every visitor will receive an engraved tasting glass and booklet.
---
Press contact
actuelles communication
Nathalie Boisset
Véronique Desmazure
20 Rue Lavoisier 21700
Nuits-Saint-Georges
Phone : +33 (0)3 80 30 14 30
contact@actuelles.biz
www.actuelles.biz


@actuellesRP