Burgundy wines on the spice trail
Press release
Hospices de Beaune Wine Auction special
September 26th, 2016

---
« BURGUNDY WINES ON THE SPICE TRAIL »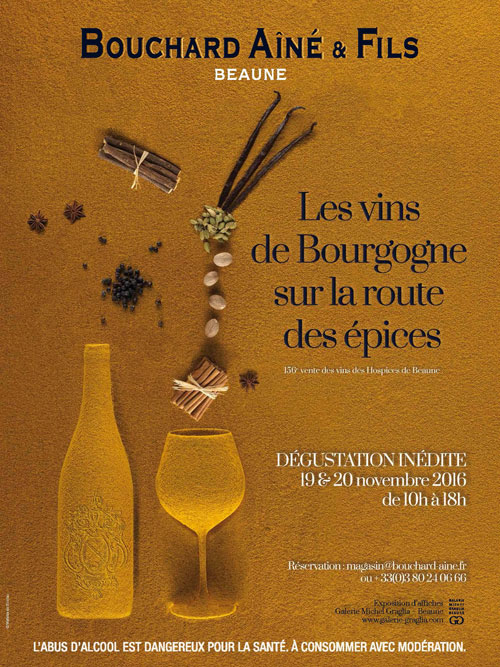 For the 10th edition of Bouchard Aîné & Fils's now-legendary themed food and wine tasting to coincide with the annual Hospices de Beaune wine auction, we invite you on a long journey to the confluence of spices and Burgundy wines. From this exceptional sensorial and gustatory experience emanates a scent of adventure that will captivate your palate and haunt your imagination…
Over the weekend of Saturday 19 and Sunday 20 October, Bouchard Aîné & Fils invites you to follow the great spice routes, through the Indies, Americas, and Africa, with Burgundy wines as your traveling companions from this Beaune wine house that first opened its doors during the Age of Enlightenment.
This premium tasting event will include a selection of seven wines, four of which will be accompanied by some spicy gourmet creations. Naturally, the wines will all be Burgundies, and will include a Crémant de Bourgogne, a wine in the barrel, two white crus, two reds, and some older vintages. You are invited to enjoy them in our cellars decked out with a touch of the exotic for the event, where the Tour of the Five Senses will take a spicy turn.
With a palette of warm colors and some powerful aromatic sensations, spices – much like wines – are all about visual, olfactory, and tactile sensations and exotic scents. Our challenge was to combine these tempting aromas of distant lands with different Burgundy wine personalities in some unexpected marriages, where each is emphasized without being overpowering. Our resident winemaker and partner chef have stepped up to the challenge with elegance and precision.
Beaune-based chef Laurent Parra will produce appetizers using spice mixes from Epices Roellinger range to create the perfect harmony with Bouchard Aîné & Fils wines.
While spices stimulate our olfactory and gustatory perceptions, wines can express a multitude of nuanced aromas, including spicy ones that tend to emerge as the wines develop and age. These complementary sensations from spices and wines will mingle and merge, with notes of cinnamon from Sri Lanka, Szechuan pepper, Chinese licorice, Madagascan vanilla and saffron from Iran.
Spices are a universe to themselves and that's why our Cave des Arômes, which illustrates our sense of smell, will be exclusively dedicated to spices for the event. You will be able to experience all the different expressions of scented spices such as pepper and vanilla, and discover all the different nuances that stem from the terroir. There is a whirlwind of aromas out there to rediscover in the foods and wines on offer.
An exhibition in the Graglia gallery in Beaune will complement your experience with posters and illustrations from the spice trails and spice producing lands.
This year's poster from Bouchard Aîné & Fils to advertise the event is designed by photographer and artist Mathilde d'Ecotais.


PRACTICAL INFO

Tasting in the cellars of the Hôtel du Conseiller du Roy, 4 boulevard Maréchal Foch, Beaune
Saturday 19 and Sunday 20 November 2016 from 10:00am to 6:00pm



Wines for tasting: All the wines on offer for tasting are available for purchase in the boutique.
The limited edition poster, signed by the artist Mathilde de l'Ecotais, is also available to buy.
Exhibition and sale of posters at the Michel Graglia gallery.
Prices for the "Gourmet tasting"
Free etched Bouchard Aîné & Fils wineglass and tasting booklet for all visitors
---
www.bouchard-aine.fr |Facebook |Twitter |Tel. +33 (0)3 80 24 06 66 | magasin@bouchard-aine.fr |
http://www.mathildedelecotais.com/
http://www.epices-roellinger.com/


---
Press contact
actuelles communication
Nathalie Boisset & Véronique Desmazure
contact@actuelles.biz | Tel: +33 (0)3 80 30 14 30