Burgundy wines on the spice route
November 2016
---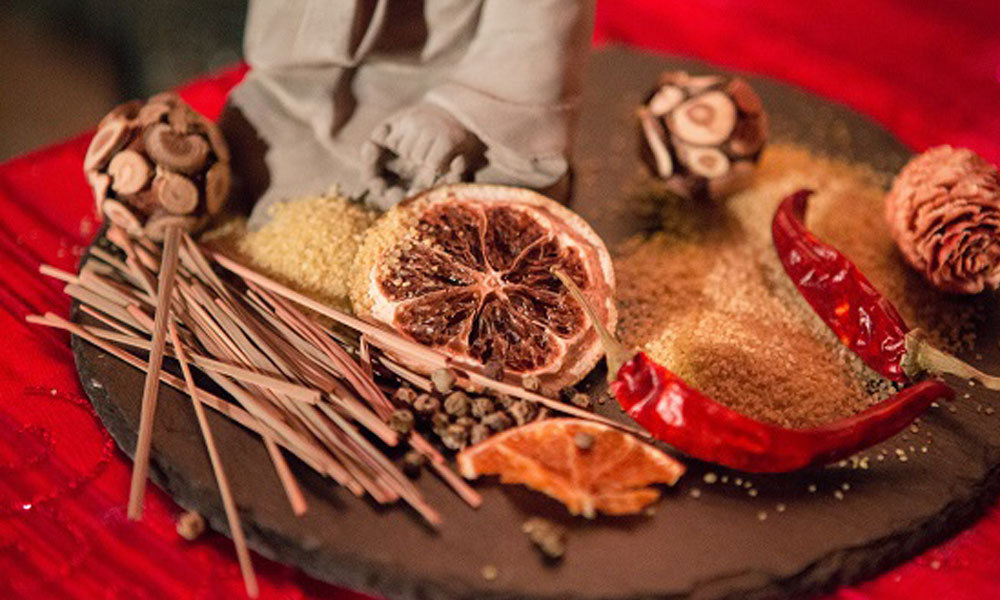 For its 10th annual tasting of food and wine combinations, Bouchard Aîné & Fils invited guests on a distant voyage to a place where Burgundy wines and spices meet, resulting in a very original tasting experience. There was a whiff of adventure in the air to enchant both the palate and the imagination.
Over the weekend of the Hospices de Beaune wine auction, visitors to Bouchard Aîné & Fils had the chance to explore the spice trail, through the Indies, Americas, and Africa, with Bouchard Aîné & Fils Burgundies as their traveling companions.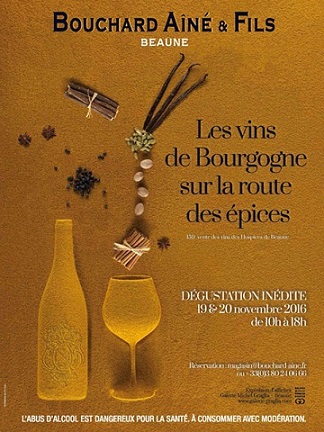 The tasting included seven wines, included four that were paired with dishes prepared with Roellinger spices.
Crémant de Bourgogne brut in magnums Savigny-lès-Beaune 2014
& scallops marinated in olive oil and vanilla from Papua New Guinea

Chassagne-Montrachet premier cru Les Macherelles 2013
& Irish beech-smoked salmon with Corsaire curry power

Beaune Premier Cru Les Marconnets 2016, from the barrel

Pommard Cuvée Billardet Hospices de Beaune 2003
& with venison and Malabar pepper from India

Beaune premier cru Clos du Roi 1999
& a velouté of wild mushrooms, slivered duck with long Indonesian pepper and Ombre spice mix

Bonnes Mares grand cru 1973
The Cave des Arômes was dedicated to spices for the event.

The spices offer fragrances and visual, olfactory, and tactile sensations, and were woven together with the
personality of Burgundy wines into perfectly balanced pairings by Beaune-based chef Laurent Parra along with the winemaker, with elegance and precision.

An exhibition of travel-related works from the Graglia gallery in Beaune completed the event

www.galerie-graglia.com