From grape to wine - Vinification
---
The link between winegrowing and winemaking begins with the harvest. Harvesting requires great care, as the objective is to optimise and extract the potential quality in each grape. This is why the grapes are handpicked and transported in 20-kilogram perforated crates. The grapes are weighed upon arrival at the winery and then are meticulously sorted by hand.
Utmost care and respect for the grapes and for the wine determines the winemaker's day-to-day work at the winery: we aim to intervene as little as possible, but adding our value where necessary. As the old saying goes in French, "L'art en cave c'est de savoir ne rien faire", translated as the art of the winemaker is knowing when to do nothing".
White wine vinification
Grapes are pressed.

The liquid is allowed to settle for 24 hours.

Fermentation is slow, taking between 10-16 months, following designated standards (15% to 40% in new oak barrels) and takes place in French Oak barrels.
Red wine vinification
All of the grapes are de-stemmed and gently crushed before being transferred to wooden vats (1500L – 6000L) where they undergo pre-fermentation cold maceration for three days.

Alcoholic fermentation lasts between 15 and 20 days depending on the appellation.

Each day the must is pumped over once or twice and the cap is punched twice daily by hand.

Temperatures are allowed to rise (36°C) at the end of fermentation for the Premiers Crus and Grands Crus.

The press and free-run wines are blended.

Barrels from France's Allier, Vosges and Nièvre regions are used for ageing.

The wine is racked for the first time after malolactic fermentation.

Ageing from 12 to 18 months.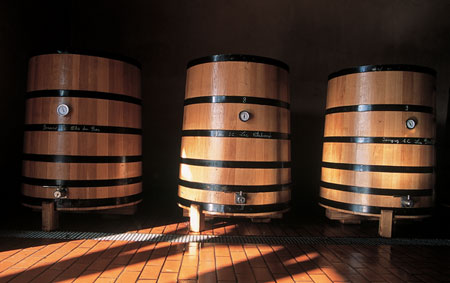 Our winery is located on the road to Savigny-lès-Beaune, near the Hôtel du Conseiller du Roi, headquarters of the House of Bouchard Aîné & Fils.
It was purchased in 2000 and is equipped to meet Bouchard Aîné & Fils' strict specifications.
The winery is equipped with:

- 1 table for hand-sorting the harvested grapes

- 2 stainless steel vats (1500 to 5000 litre capacity) for the vinification of white wine

- 16 oak barrels of 1500L to 6000L capacity

- crusher/de-stemmer

- 1 pneumatic press
Two cellars, with a total capacity of 760 barrels (each of which contains 228 litres), are used for ageing our wines. Protected from light, they remain under the constant surveillance by the House winemaker.